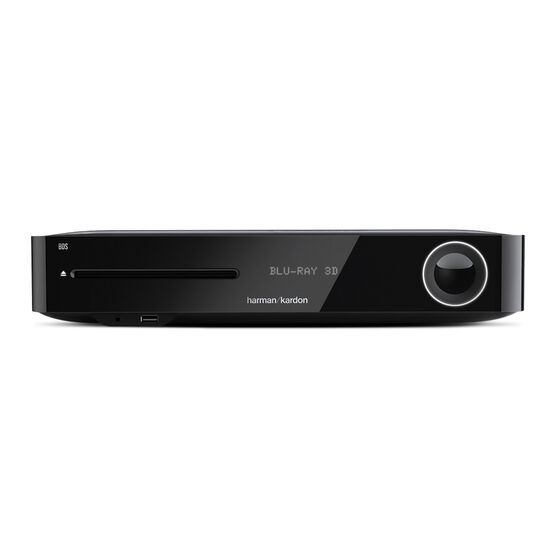 BDS 280
Details
https://kh.harmankardon.com/BDS+280.html?dwvar_BDS%20280_color=Black-USA-Current
---
2.1-channel, 130-watt, 3D Blu-ray Disc™ System with AirPlay and Bluetooth® technology
Two 65-watt-per-channel amplifiers
The BDS 280 Blu-ray Disc™ System delivers 65 watts per channel to power your 2.1-channel system. Connect to a powered subwoofer for enhanced low-frequency performance and added theatrical presence. To ensure the most accurate, dynamic sound with enhanced clarity and realism – at even the highest listening levels – a digital power supply provides the amplifiers with all the muscle required – without the weight and bulk of traditional power-supply designs and heavy transformers. The net result is a great-sounding system that's also environmentally-friendly.
Apple AirPlay, Bluetooth® and DLNA 1.5 technology
The BDS 280 streams audio from virtually any portable device. For computers with iTunes, Apple iPad, iPhone and iPod touch devices – stream your entertainment using the system's built-in AirPlay technology. BDS 280's integrated Bluetooth® technology with HARMAN TrueStream and MultiConnect enables connectivity to almost any tablet, smartphone or laptop. With MultiConnect, there's no need to disconnect one device between streaming from a second. A front-facing USB port invites you to connect devices directly without the need of an external adapter or a wireless connection. The BDS 280 is also compliant with DLNA 1.5 for music, photos and video, providing multiple options for delivering content over your home network.
NFC Bluetooth® pairing
Connecting your NFC-enabled Android™ and Windows® devices to BDS 280 with Bluetooth is easy and fast. BDS 280 features an NFC sensor which, with Bluetooth® technology-enabled, allows immediate pairing by simply touching your device to the BDS.
Built-in Wi-Fi networking capability
Place your BDS 280 anywhere. Its Wi-Fi networking capability connects you to your home network without the need for a wired network connection. With it, gain wireless access to streaming services, Apple AirPlay, DLNA, receiver updates, and additional online BD-Live™ content for your Blu-ray Disc™ media.
Easy access to online services
Full network connections provide quick access to your favorite online content from, Pandora®, YouTube™ and others (where available).
HARMAN TrueStream technology
The HARMAN TrueStream guarantee is your assurance of receiving the best possible listening experience. Streaming audio wirelessly via Bluetooth® technology, HARMAN TrueStream selects the most current, most advanced wireless option to deliver the highest-quality sound, regardless of which application or source device you choose.
Multiple HDMI connections with 3D, Audio Return Channel (ARC) and MHL™ interface
Three HDMI inputs with 3D and 30/36-bit Deep Color deliver full, high-definition digital video at resolutions up to 1080p with full-fidelity audio through a single cable. Experience no loss of video or audio quality from format conversion – just full-impact Hollywood excitement as its creators meant for you to experience it. BDS 280's Mobile High-Definition Link™ (MHL™) interface allows for high-definition audio/video content directly from your camera, phone, tablet or Roku Streaming Stick™. You can send sound from your TV to the BDS 280 without extra cables using HDMI Audio Return Channel (ARC).
Subwoofer preamplifier output
If you hunger for more bass, a subwoofer preamplifier output is ready and able to feed its signal to any external, powered subwoofer, giving your system a large-scale boost in low-frequency impact, clarity and realism.
Front-panel USB port
Enjoy multiple options for audio playback through OMNI BDS 280's front-panel USB port. Simply connect an iPhone, iPad, iPod or USB stick to play your favorite music-tracks through your home entertainment receiver. Or play back a full complement of video and image formats from compatible USB drives, including MPEG-1, MPEG-2, MP3, WMA and JPEG.
Dolby TrueHD and DTSDigital Surround decoding
High-resolution audio to match the digital-video quality of Blu-ray Disc™ formats will unlock the full potential of movie soundtracks formatted with Dolby TrueHD and DTS Digital Surround decoding. Regardless of mode selected, you'll applaud the exceptional audio quality realized with BDS 280 – as you make the most of your entire system.
Tomorrow's technology has found a new home
High-performance, 2.1-channel, 3D Blu-ray Disc™ System delivering direct access to all your portable media.
The Harman Kardon® BDS 280 is a sleek, high-performance, 3D Blu-ray Disc™ System redefining Blu-ray capability. It features three HDMI® inputs with 3D;HDMI Audio Return Channel (ARC) for compatible TVs; Wi-Fi® networking connectivity, eliminating the need for a wired Ethernet connection; Apple AirPlay for streaming content from your iPad, iPhone, iPod, or iTunes on your Mac or PC; Bluetooth®® MultiConnect™ technology for pairing two devices at once; NFC for easy Bluetooth® pairing and DLNA® 1.5. With the BDS 280, you can also connect to Pandora® and other online services (where available).
Harman Kardon's legendary best-in-class sound technology brings Dolby TrueHD and DTS Digital Surround to life. With Dolby Volume, you can hear everything as was originally intended without disturbing the neighbors. Optimize your listening experience with its EZset/EQ™ speaker calibration system.
Setting up and using the system is easy and fun with its clean and attractive high definition graphical interface or with the free-of-charge remote app for iOS and Android. In other words, the BDS 280 raises the standards of what you've come to expect from any Blu-ray system.
Sharing